"Your manners are always under examination, and by committees little suspected, awarding or denying you very high prizes when you least think of it."
- Ralph Waldo Emerson
In our current global economy, competition has increased dramatically. Your competition is no longer just across the street; it can be anywhere in the world. Customers are no longer the people you grew up with; today they can live or have come from anywhere in the world. And having the best product at the best price will give companies only a momentary advantage.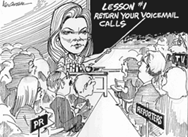 The key to gaining the competitive edge in the 21st Century is to build solid relationships based on mutual trust that can withstand the vagaries of the market. Solid business relationships are built on presenting ourselves and treating our customers better than the competition does. A mastery of etiquette is essential in building and keeping a customer base. Quite simply, good manners are good business. A working knowledge of etiquette helps you do business better anytime, anywhere, with anyone. And that creates the competitive edge that you need to outshine the competition!
Through our programs on Outshining the Competition, sales and marketing professionals learn:
the 3 aspects of their life over which they have complete control and how to maximize them to their best advantage
how to avoid telephone tag and get through to decision makers
how to master the mingling and work a room with panache
how to entertain clients and come to the table with style and grace
many, many more tips that will make them look like polished professionals
And they acquire:
a greater awareness of the impact that relationships have on their success.
a vision of their polished personal-best
the behaviors that help them gain the competitive edge.
the benchmarks that ensure they continue to outshine the competition.
These programs can be designed as:
1-day workshops dealing with American business etiquette and entertaining
2-day workshops focusing on an international or multicultural customer base
3-day workshops dealing with both domestic and international/multicultural protocol and business etiquette.
Programs include:
a workbook
resource materials
continuing support via phone/fax/e-mail
For open enrollment schedule, click here. To register for the one-day open enrollment workshop, click here.